Montepaschi Wins First Match
---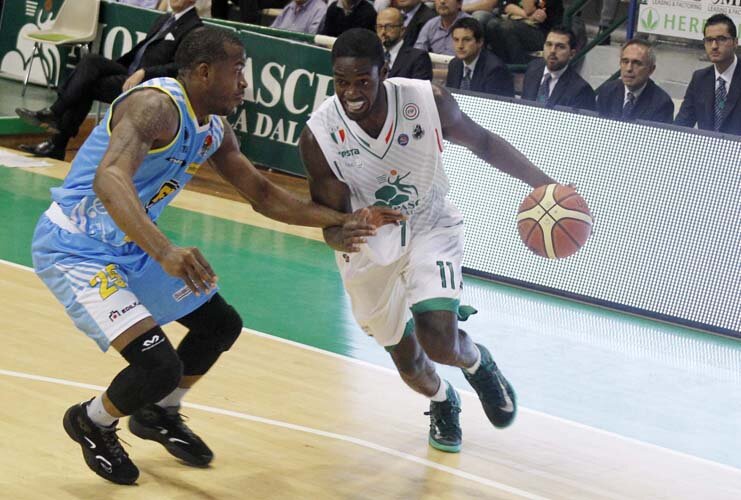 13 October 2013 Mens Sana House
MONTEPASCHI SIENA-VANOLI CREMONA 97-82 (23-19; 50-43; 75-63)

MONTEPASCHI SIENA: Viggiano 2, Hunter 12, Cournooh 2, Rochestie 2, Carter 18, Ress 1, Ortner 6, Nelson 12, Udom, Hackett 8, English 22, Green 12. Cch. Crespi

VANOLI CREMONA: Chase 3, Conti ne, Marchetti, Woodside 14, Jackspon 5, Spralja 17, Ariazzi ne, Kalve 6, Fiorentini ne, Kelly 8, Rich 25, Ndoja 4. Cch. Gresta

A good first match for Montepaschi as they defeated Vanoli Cremona 97-82 tonight.

It starts off balanced between the two teams and they're tied at mid quarter (13-13). Motnepaschi makes a mini-break the second half of the quarter (+4) and it's 23-19 at the first buzzer.

Siena tries to take off at the start of the second quarter (5-0), but Vanoli comes close to trail by only 4, blocking Siena's flight attempts. At 5'34″, Montepaschi is leading 35-32, but Carter and English widen the gap to 9 (41-32). The man from Baltimore puts the breaks on Cremona's efforts to tie it and triples for a 10 point lead (48-38). Nelson scores for the green-and-whites largest lead, but Woodside sets the distance back again from the line and Jackson sends the teams into halftime 50-43.

Siena keeps a double digit lead until Woodside's free throws, then Vanoli makes some important plays that put then down by only 6 (56-50 after 4'). Hackett ends Cremona's run, then Woodside goes to the line for 2/2 on a technical called on Mens Sana's point guard. Carter brings and 8 point lead from the line, then Nelson triples to make that 11 again (63-52 at mid quarter). Rich adds points to trail by 9, but Carter scores to make that a double figure. Rochestie's basket ends third quarter with a score of 75-63.

Vanoli won't give in and Montepaschi keeps a safe distance by putting 20 points between themselves and the away team (90-70). The green-and-whites stay in control through the end of the game. The final score is 97-82 for the home team.