Montepaschi Knocked Out in Poland
---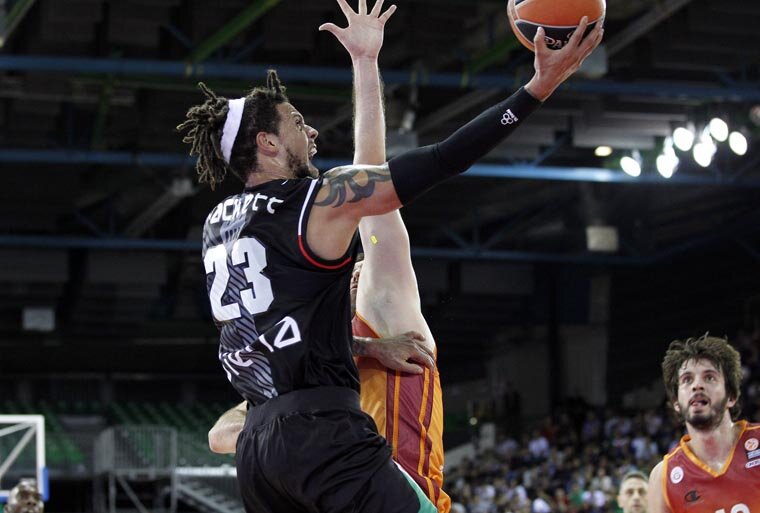 1 November 2013 Mens Sana House
STELMET ZIELONA GORA-MONTEPASCHI SIENA 73-65 (16-13; 35-27; 49-44)

STELMET ZIELONA GORA: Cel ne, Walker 7, Barlow 7, Chanas, Hrycaniuk 4, Eyenga 13, Dragicevic 12, Kucharek ne, Brackins 6, Sroka, Zamojski 9, Koszarek 15. Cch.. Uvalin

MONTEPASCHI SIENA: Viggiano 7, Hunter 2, Cournooh ne, Rochestie 11, Carter 16, Ress 8, Ortner 4, Udom ne, Hackett 12, English 3, Carter 2. Cch. Crespi

Montepaschi isn't up to the task in Poland, as they cede to Zielona Gora 73-65.

It's 4-0 for the Polis, then Josh Carter triples and then scores again for a Montepaschi lead. Brackins erases Siena's 1 point advantage and puts his team ahead. Green goes to the line to put the green-and-whites in front. The Polish team gets up by 3 (10-7 at mid quarter). Carter ties it up again and Viggiano makes the score 10-13 at 2'15". Zielona gets two plays that put them in the lead and fouls called on Montepaschi's Italian-American athlete set the score at 16-13 at the first buzzer.

Siena ties it through English and Ress at the start of the second quarter (18-18). The Polish team immediately takes back control of the game and leads 27-23 at mid quarter. The two teams head into the half 35-27 for the home team.

Montepaschi makes a 7-0 break to trail by only 1 (35-34). The Polish get up by 5, but Siena's press bears fruit and the two teams are tied again a mid quarter (39-39). The home team takes a 7 point lead (47-40 at 2'40") and the quarter ends 49-44.

The green-and-whites keep chasing and are down by 3 at 4' (54-51). Zielon widens the gap and two minutes later are up by 8. Hackett keeps hope alive for the green-and-whites with two acrobatic points. Ress brings Montepaschi up to trail by 3 with point from the arc (64-61 at 2'40"). Dragicevic adds two points on the inside. Hackett goes 2/2 from the line. Ress tries to triple, but the shot bounces off the rim. Zamojski makes 100 percent on free throws. Carter responds in kind. The Polish team is back on the line with number 35, who then brings in a three point play. The game ends 73-65.