Montepaschi Almost Pulls Off a Feat in Istanbul
---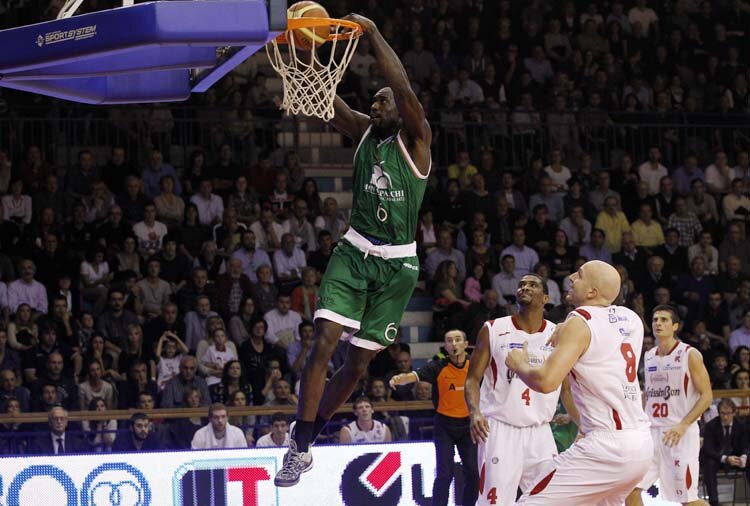 21 November 2013 Mens Sana House
GALATASARAY LIV HOSPITAL-MONTEPASCHI SIENA 54-52 (11-11; 22-22; 40-38)

GALATASARAY LIV HOSPITAL: Erceg 8, Koksal 3, Hairston 6, Atsur ne, Akyol, Aldemir 2, Mensah-Bonsu 16, Macvan, Arroyo 2, Guler 12, Arslan 7, Domercant. Cch. Ataman

MONTEPASCHI SIENA: Viggiano 7, Hunter 4, Cournooh, Rochestie 7, Carter 8, Ress, Ortner 8, Udom ne, Hackett 16, Cappelletti ne, Green 2. Cch. Crespi

Montepaschi almost pulls it off atAbdi Ipecki Arena in Istanbul but cedes to Galatasaray at the very last shot when Hackett's triple bounces off the rim. Turkey takes the game 54-52.

Montepaschi starts off well with a 5-0 fun. Galatasaray immediately responds with a 9-0 break to take control of the game. The green-and-whites defend strong and land important baskets with Ornter. It's tied 11 all at 2' left, and that's how quarter ends.

Galatasaray gets back ahead at the start of the second. Siena responds but Turkey scores again througth Arslan (15-13 after 2'). Siena is trailing but stays in the game and ties it up with a basket from Green that brings the score to 17 at 4'30". Hackett puts his team ahead with ½ from the line, but Turkey ties it again with free throws. Hunter scores for a Siena lead and Viggiano hits one off the backboard for a 4 point lead (18-22), then Mensah-Bonsu flies high for a powerful dunk to trail by 2, then Arslan makes a layup at the buzzer to tie it 22-22.

Hunter's triple kicks off scoring third quarter after over 2' of mistakes on both sides. Turkey makes a 6-0 run the puts Galatasaray up 28-25. Rochestie strikes again with a triple and begins a break for Montepaschi, who's up by 7 at 3'(28-35). Guler ends the run and starts a counterbreak to tie the game (35-35). Mensha-Bonsu scores for the lead. Carter makes an important triple, but Guler renders that in vain. Turkey is up by 1 (40-38) at the end of the third.

The final quarter opens with a "duel" between Hackett on one side and Mensah-Bonsu on the other (44-44 after 2'). The ex Milano athlete puts Galatasaray on top. Hackett manages to score but Erceg brings a 3 point lead (48-45). Mensah-Bonsu and Guler keep Turkey ahead. Siena keeps trying and gets points from Rochestie. With 1'53" left, the score is 53-49. Hackett's triples with 21" left brings Siena up to trail by 1 (53-52). Arslan lands 1/2 from the line, then Hackett misses for the shot for the win. Galatasaray brings home the two points by a score of 54-52.